Teaching Students to Make S.M.A.R.T. Goals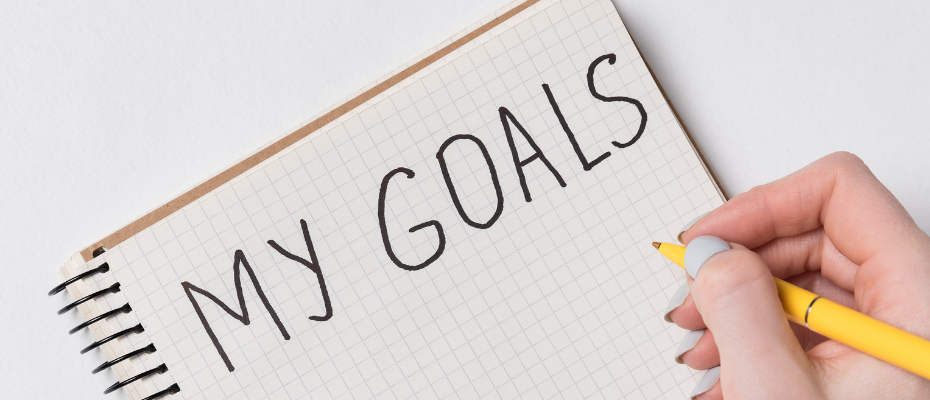 Empowering students to make their own targets for learning promotes self-efficacy. As educators, we know how important it is to set goals and take the steps necessary to achieve them. Coaching students to make their own goals is a life skill that will serve them both in class and as they advance in education. It is important that students understand how to set goals that are realistic. This requires them to be measurable, specific, and appropriate (for each student). Students must be able to relate to their goals, which means that they must be attainable within a set period. Teach students about goals and why goal setting is important.
S.M.A.R.T. goals have long been the rage in teacher's circles as a way of building students' capacity to tackle the increasing challenges they are facing, especially when it comes to studying. To be successful, students must be taught to set goals that are S.M.A.R.T. "This approach defines your purpose and sets clear objectives to establish success" (ASVAB Career Exploration Program, 2023). To be most successful, goals should be set at the beginning of a semester or school year, and then continually reviewed and updated. Setting goals can help students maintain organization and control over their schoolwork. By setting their own goals — whether it be a particular grade, meeting a deadline, or moving up a reading level — students are taking control of their education. With this increased level of accountability, students can check their progress and, when necessary, work harder to get back on track. Setting goals also gives students a push they may not otherwise have. Thus, having a hand in the creation of and progress toward their goals, students feel more empowered, resulting in a greater sense of accomplishment once the goals have been achieved.
Guide students to create their own S.M.A.R.T. goals for learning by leading through the following process.
Specific. Define your goal as clearly and specifically as possible. To do this, students should clarify the who, what, when, where, and how of their goal. The more specific a goal is, the easier it will be to develop an action plan for achieving it. For example, instead of students saying they would like better grades, have them get finite by clarifying in which class they would like a better grade and what grade they want specifically.
Measurable. Have the student think about how they will measure success toward their goal. For example, will they study every day before hanging out with friends, or do they need to seek extra help from a tutor to meet their goal?
Attainable. It is necessary to pick goals that can be realistically accomplished. Only some advanced placement classes are realistic for some students. Students need to consider which classes they can score As in and which classes it is more realistic to aim for scoring Cs. Sometimes breaking a goal into smaller parts helps to make it easier for a student to achieve. For example, while "going to college" is a worthy goal for Martin, it requires multiple steps to achieve, such as passing all his classes, submitting an entrance application, obtaining letters of recommendation, and the like. To make this goal more attainable, Martin should focus on setting goals for each step of the process toward the bigger picture. Doing so makes the overall goal of going to college more attainable.
Relevant. Students' goals need to be results-oriented. Students need to select goals that make sense within the broader academic goals. Is the goal for themselves, or are they trying to please someone else? Increasing a GPA by a certain percentage is a relevant goal, with a much bigger goal of getting into college. Talk with students about the qualities that make a goal worthwhile.
Time-Bound. Students need to have a timeline or deadline to be organized with their goals. For example, if a student's goal is to increase their GPA, the deadline "by the end of the semester" would be an appropriate time. As previously mentioned, "going to college" is a worthy goal, but it is too far into the future for most students. Instead, having goals for each step of the process allows students to take immediate action.
To keep students focused on their S.M.A.R.T. goals, it might prove beneficial to keep an anchor chart, such as the one below, front and center. It should be placed in a prominent location and teachers should refer to it often throughout the course of the school year. Also important to note, setting S.M.A.R.T goals can be particularly effective for students with executive function deficits.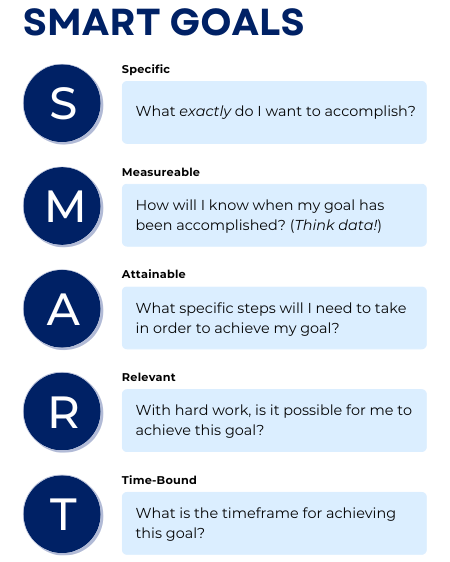 Once you feel students have a solid grasp on all that goes into a S.M.A.R.T. goal, it is time to let them loose so that they can try to set their own S.M.A.R.T. goals. Students can simply write down their goals on a piece of paper to be kept in their journals, or you can provide them with a pre-made blank form to post in the classroom, such as the one shown below. By having the goals visible every day, students are encouraged to keep working toward their goals. Also, students can encourage each other and create a climate of purpose and intention in the classroom.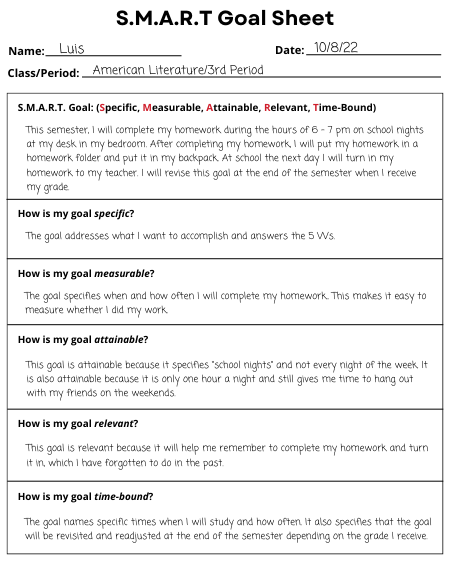 To learn more about the setting S.M.A.R.T. goals and how they can really impact a students' growth mindset, visit the Professional Development Institute (PDI) website or go directly to our Instilling a Growth Mindset in Students course. PDI has been offering quality online professional development courses for over 25 years and has trained more than 275,000 K-12 educators across the globe. We specialize in offering quality, affordable university-approved online courses that focus on the most relevant topics in education while providing practical strategies that can be implemented in the classroom immediately. All PDI courses are at the graduate-level, instructor-led, and are conducted entirely online. University credit is available through University of California Division of Extended Studies. PDI offers an extensive catalog of online courses for teachers on topics that are the most critical in today's classrooms.
Article References
ASVAB Career Exploration Program. (2023). "S.M.A.R.T. Goal Setting For Students." Retrieved 28 June 2023 from https://www.asvabprogram.com/media-center-article/65
Categories: S.M.A.R.T goals, growth mindset, executive function skills